Dear everyone,
I wanted to provide you all with updates on what is going on for the County. The year following the census is when we all participate in Redistricting. And while the State Government coordinates district lines for state and federal seats, the County Board decides how the community will be represented at the county level and where precinct lines are located. There is quite a bit of leeway in determining if we want 5 or 105 board members, or if we want at large seats or multiple districts. Right now there is no set guideline or process for how to set fair maps within our county. Please support our efforts in requesting that this process be open, transparent and with the ultimate goal of a representative map.
So far what we know is that Census data is delayed, and that we will not have final data until September. According to state law, the county is required to have determined the number of districts and representatives submitted by July 1. A responsible plan should be debated, receive feedback from the community and be finalized in a public forum.
There are groups already mounting efforts to establish "at-large" seats or "pie slices" combining small sections of Bloomington Normal with large swaths of county lands with the stated purpose of diluting the representation of Bloomington-Normal residents. Below you see a sample of multiple emails I have received from rural residents demanding that power be gerrymandered to inversely amplify their voice over residents in the County seat. They are unjustly demanding a larger voice because they want a greater say on Land Use permits and Road maintenance, when the 26 other county departments provide more services to the Bloomington Normal residents, our roads are maintained at some of the highest quality of neighboring counties, and Land Use makes determinations on economic developments like Wind/Solar farms that bring in substantial commercial property taxes and have allowed County government to keep the property tax levies flat for over a decade.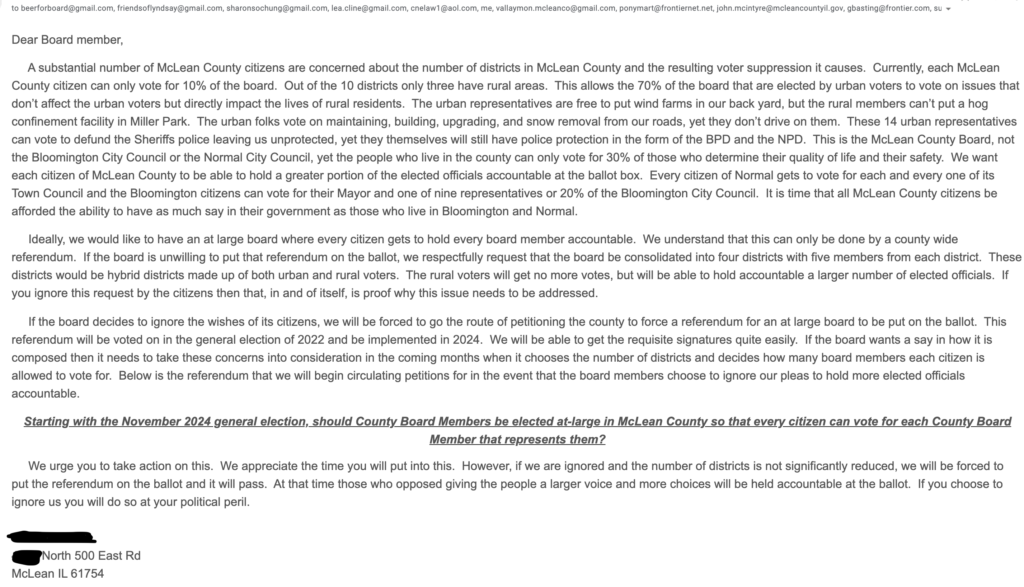 I am counting on your voice and your influence to help me advocate for fair maps and fair representation for McLean County. There are 3 stated dates for "Reapportionment Hearings" Tues April 20 at 4:30pm (http://www.mcleancountyil.gov/ArchiveCenter/ViewFile/Item/8070), Tues April 27th at 4:30pm and May 3rd at 7 pm. Those persons wishing to provide live public comment (by phone or in person) must register https://mcleanil.seamlessdocs.com/f/public_comment 24 hours in advance of the meeting (for comments relating to an item on the agenda) and 48 hours in advance (for comments not related to an item on the agenda).
According to the agenda for this Tuesday's meeting it appears that we are only going to be able to speak on how many districts and representatives we want. This is incredibly irritating as there were bigger verbal promises made during the Executive Board meeting on Monday. You can hear the outline given starting around the 1h33min mark. https://www.youtube.com/watch?v=zEVpC9wsMkI
My notes indicate the Chair mentioned hosting a "Public Input Meeting" and that it would be open to anyone in the public to come and present information, ideas, and place on file suggestions for plans for Board's consideration. Member Wollrab asked to clarify if groups would be able to present actual plans, and the reply was he wanted it to be open and transparent for all people to express their ideas and contribute. HOWEVER, that is not what the agenda states. Per new county rules, anyone who wants to comment on something that is not on the agenda can request to speak and will be given time at the end of the meeting (but will still need to register as a public comment 48 HOURS in advance- in this case by Sunday at 4:30pm).
Please let me know if you have any questions or would like to make a public comment.
Many thanks!